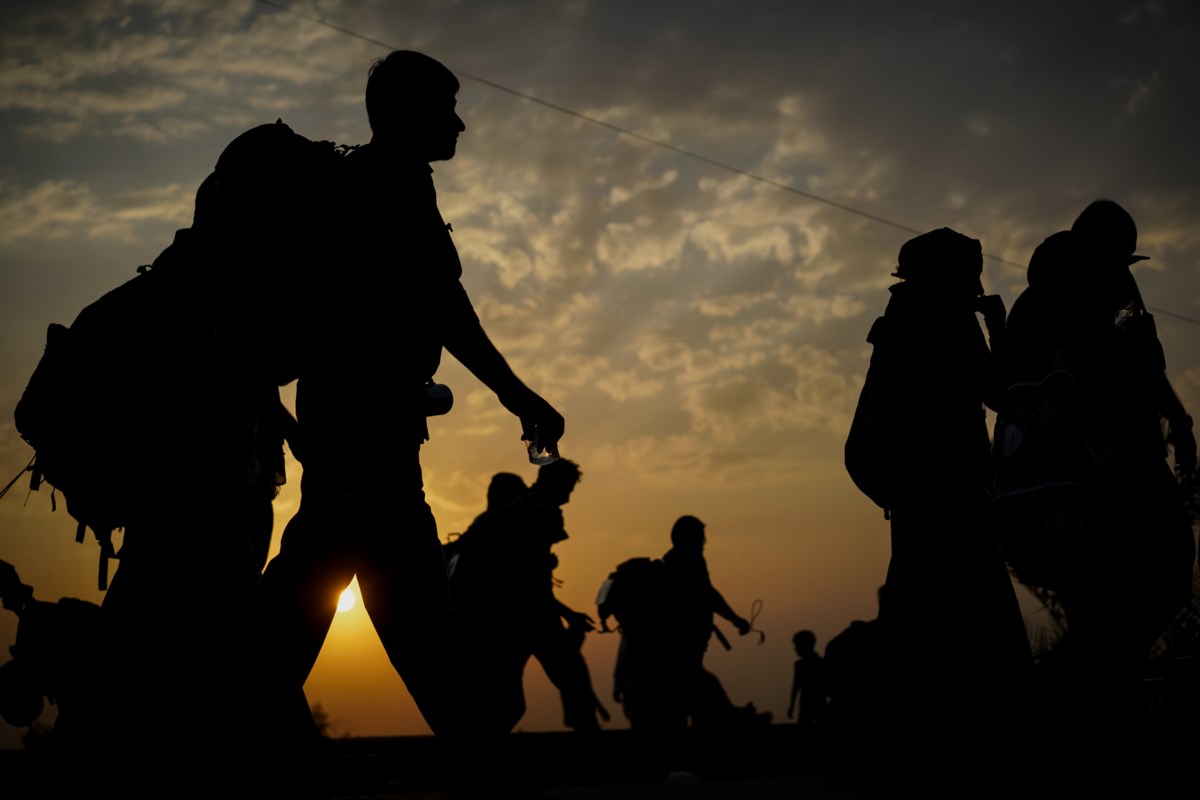 Too early to start resettling Ukrainian refugees, UN agency says
OTTAWA — The Canadian representative of the United Nations refugee agency, the UNHCR, says it is too early to start resettling Ukrainian refugees who fled thousands of Russian aggression in their country.
Rema Jamous said the scale of displacement from Ukraine is disheartening, as some 500,000 people have already fled to neighboring countries in search of safety.
If trends continue, UNHCR estimates there could be up to four million Ukrainian refugees and up to 12 million people inside Ukraine who will need assistance and protection.
Still, most people who have left Ukraine hope to return home when it is safe to do so, she said.
"We're really, really talking about the early days of resettlement," Jamous said in an interview. "People will always want to get home before they think of going anywhere else."
Jamous's colleagues reported large numbers of women and children crossing the Ukrainian border, she said.
Striking images of Ukrainians saying goodbye to their families as they take up arms against Russia to defend their homeland have also spread around the world.
This leaves hundreds of thousands of refugees camped in neighboring countries awaiting the outcome of the war.
"You're probably going to see people staying near the border area," Jamous said. "The overwhelming majority of refugees around the world will stay close to home and wait in neighboring countries for an opportunity to return to their country of origin."
Alexandra Rodionova lives in Aylmer, Quebec, but she says a part of her is still in Kyiv with her family. She immigrated to Canada in 1992, but her family and friends remain in Ukraine and plan to stay.
"It's very hard to say or say what the safest thing to do is," Rodionova said in an interview.
The Canadian Council for Refugees said one solution would be to allow Ukrainians to enter Canada visa-free, providing safe haven until it is safe to return home.
"A government should make it easier for them to come to find temporary safety in Canada," executive director Janet Dench said in an interview.
The House of Commons immigration committee voted on Tuesday to ask the government to introduce visa-free travel from Ukraine to Canada.
The vote passed without the support of Liberal MPs, who expressed concerns about homeland security if bad actors wanted to enter the country.
The government is not currently reviewing visa requirements for Ukrainians, the House Foreign Affairs Committee learned on Monday.
UNHCR said refugees inside and outside Ukraine's borders will need humanitarian assistance, as current resources are likely to run out quickly.
"We are looking at what could become the biggest refugee crisis in Europe this century," UN High Commissioner for Refugees Filippo Grandi said in a written statement on Tuesday.
The United Nations on Tuesday appealed to governments for $1.7 billion to cover the humanitarian costs of the crisis, including $550.6 million to help refugees who have fled to neighboring countries.
The money will be used to provide tents, heating, warm clothes, food and other basic necessities, Jamous said.
In response, Canada's Minister for International Development, Harjit Sajjan, pledged $100 million in humanitarian aid. This is in addition to the $25 million that Canada has already allocated to Ukraine this year.
UNHCR has received reports that non-Ukrainians in the country have tried to flee the violence only to be pushed back by neighboring countries or face additional hardship trying to escape.
Many of them are students and, in some cases, they are already refugees from elsewhere in the world.
"At this critical moment in particular, we simply cannot discriminate on the basis of legal status or nationality. People are fleeing war, they are literally fleeing for their lives," Jamous said.
The Ukrainian Embassy in Canada has sent out a bulletin challenging any discrimination based on race or nationality, including with regard to the crossing of the state border by foreign citizens.
"Given the extreme security conditions, the first-come, first-served approach applies to all nationalities, with certain humanitarian exceptions permitted for women and children," the bulletin said.
The Canadian Council for Refugees said Canada should pressure governments to keep their borders open without discrimination.
"It's one of the fundamental tenets of refugee law and the obligations of countries is to keep your borders open when refugees flee. And that must be done without discrimination," Dench said.
The government should also pay special attention to people who were already refugees in Ukraine and are now fleeing violence from Russia, she said, especially those who were already in the process of applying to come to Canada.
UNHCR will discuss resettlement options with countries like Canada at a later stage, but Jamous said demand from people looking for new housing usually far exceeds the opportunities offered by governments.
The agency prioritizes people for resettlement who are considered most at risk.
Canada has already fast-tracked existing immigration applications from Ukraine and has approved 4,000 since Jan. 19, Immigration Minister Sean Fraser said Monday.
Dench said there is always concern that when a new crisis emerges it will shift efforts to other refugee situations.
"We've seen that with Syria, we've seen that with Afghanistan, and concern is also emerging for Ukraine," she said. "If many countries are diverting their resources and attention to responding to this displacement, what does that mean for others who have been waiting for many years?
Fraser said in a written statement Tuesday that Canada will continue to do its part as a world leader in refugee resettlement.
He reiterated Canada's commitment to resettling 40,000 Afghan refugees, while ensuring that Ukrainian citizens can come to Canada as quickly and safely as possible if they wish.
Fraser promised more details on plans to bring Ukrainians to the safety of Canada in the coming days.
This report from The Canadian Press was first published on March 1, 2022.
— With files by Tobin Ng