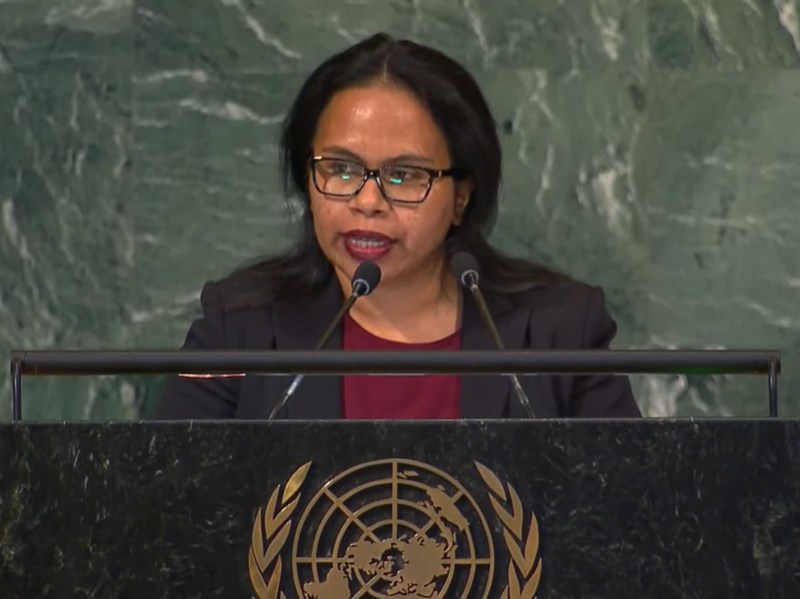 Nauru calls on the United Nations to recognize Taiwan
New York, Sept. 26 (CNA) Taiwan's Pacific ally Nauru on Monday called on the United Nations to recognize and include Taiwan in the United Nations system as the general debate of the 77th General Assembly s is held in New York was coming to an end.
In her remarks, Josie-Ann Dongobir, Chargé d'Affaires of the Permanent Mission of Nauru to the United Nations, expressed her country's gratitude to Taiwan for its support during the COVID-19 pandemic.
"The Republic of China, Taiwan is an important partner in the global response to the pandemic, as well as a special partner of Nauru. Taiwan's exemplary response and assistance should not be ignored," Dongobir said, referring in the official name of Taiwan.
"Taiwan is ready to share the experience, and we call for their recognition to ensure their right to engage with all of us in this global forum," she said.
Nauru was Taiwan's only diplomatic ally to deliver a speech on the final day of the general debate which began on September 20.
In this year's general debate, 11 of Taiwan's 14 diplomatic allies spoke out in favor of Taiwan's inclusion in the United Nations system, with Honduras, Haiti and the Holy See being the only exceptions.
Taiwan's only diplomatic ally in Europe, the Holy See is an observer rather than a member of the UN and rarely speaks out on political issues at UN-related meetings.
Honduras also rarely speaks out for Taiwan at the annual UN session, usually choosing instead to make the call in letters to the UN secretary-general.
Haitian Foreign Minister Jean Victor Geneus did not mention Taiwan in his half-hour speech, the first time since 2018 that a representative of the country did not mention Taiwan at the General Assembly of United Nations.
Rather, he stressed that his country was at a decisive crossroads in its history and that his government was seeking transformative solutions to its challenges amid widespread protests that have paralyzed the Caribbean country for months.
Meanwhile, the issue of Taiwan-China relations, which has rarely been raised in previous UN sessions, was one of the topics highlighted during this year's general debate after US President Joe Biden mentioned it in his speech.
"We seek to maintain peace and stability in the Taiwan Strait. We remain committed to our one-China policy, which has helped prevent conflict for four decades. And we continue to oppose unilateral changes to the status quo on either side," Biden said. during his speech on September 21.
According to Taiwan's foreign ministry, Biden's mention of Taiwan was rare for a US president in a speech at the UN.
Two days later, European Council President Charles Michel said the EU called for maritime security and the preservation of stability in the Taiwan Strait.
In response, Chinese Foreign Minister Wang Yi (王毅) reiterated Beijing's position on the issue of Taiwan sovereignty, and his statement was backed by Russian Foreign Minister Sergei Lavrov, who accused the United States to "play with fire" on the Taiwan question.
The ROC announced it was withdrawing from the United Nations in 1971 just before a resolution was passed ousting it from the world body and ceding its seat to the People's Republic of China (PRC). He has been barred from participating in UN agencies ever since.
Related News
Sep 26: UK to work with allies to ensure Taiwan can defend itself: PM Truss
September 26: Attack on Taiwan could devastate global economy: Blinken
September 25: Taiwan accuses China of misinterpreting UN Resolution 2758
September 25: Taiwan thanks the Philippine president for his call for peace in the strait
September 25: Saint Vincent calls for the inclusion of Taiwan in the UN; China and Russia reiterate their position
September 24: The EU and four allies come out in favor of Taiwan at the UN General Assembly
September 24: Blinken reaffirms its commitment to the Taiwan Strait during a meeting with the Chinese minister
September 22: Biden reaffirms his opposition to changing the cross-Strait status quo in his speech at the UN
September 21: 3 allies speak on behalf of Taiwan at the United Nations General Assembly