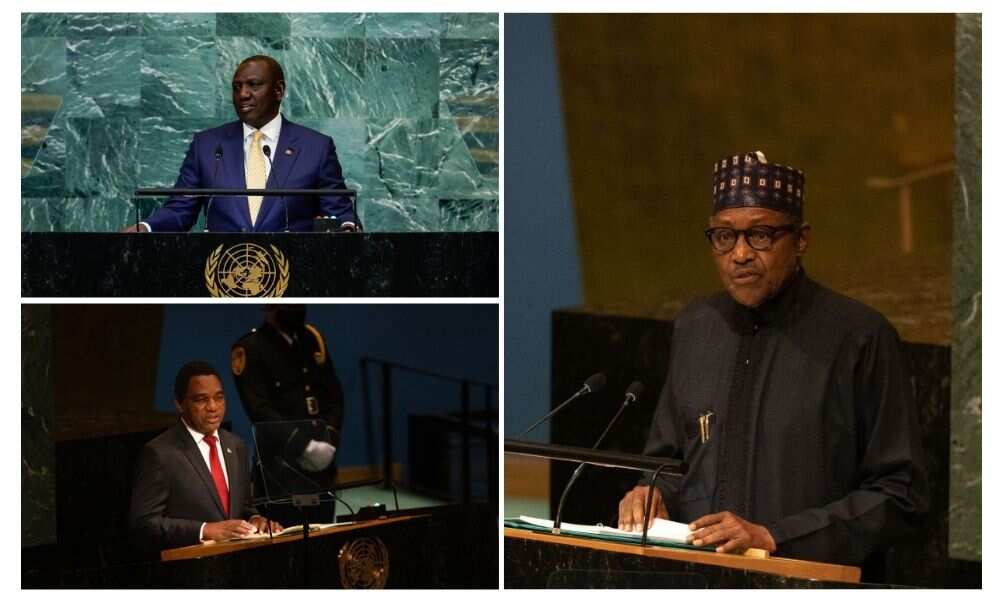 List of African leaders calling for debt cancellation at the United Nations General Assembly
Many African leaders attending the ongoing United Nations General Assembly (UNGA) in New York have a common goal
Leaders speaking at UNGA insisted on canceling Africa's debt to prevent it from sinking into debt hole
Debt cancellation or restructuring, they say, would free up resources so they can focus on critical infrastructure development.
The ongoing United Nations General Assembly (UNGA) in New York has offered some African leaders, including Nigerian President Muhammadu Buhari, an opportunity to air their positions on debt cancellations.
Many African countries are burdened with debilitating debt, mainly from European countries and major global lenders.
Africa's huge debt burden
Reports indicate that in 2020, the total external debt of African countries stood at around $702.4 billion, an increase from the $380.9 billion owed by African governments.
Bangladeshi Prime Minister denounces the "tragedy" of the rich countries on the climate
PAY ATTENTION: Follow us on Instagram – get the most important news straight to your favorite app!
At the UNGA meeting in New York, many African countries pleaded with lenders like China, the EU and the International Monetary Fund (IMF) for debt relief which they say is hampering the continent's development .
According to them, a large portion of their income is usually spent on servicing debt, which leaves little room for development and human capital development.
African presidents speak
Newly elected Kenyan President William Ruto has urged rich countries to open a dialogue with Africa on the debt burden, asking them to review the debts of poorer African countries.
Ruto said the debts paid by countries eat up the meager revenues going to those countries. He called for the debt burden to be eased to allow poor African countries to develop their resources.
Zambian President Hakainde Hichilema told the BBC the country's $1.3 billion debt to the IMF was circumstantial, saying it was due to what his administration had inherited.
Is China plotting a takeover of Nigeria's critical assets in debt repayment? The fact emerges
He explained that debt servicing should be eased to allow Zambia's revenues to flow back into the economy to spur development.
Hichilema said the $19 billion debt service is heavy, but once reduced and replaced with fair capital, the debt service revenue would revert to revenue regeneration.
Ruto said East Africa is burdened with significant conflicts and changes that hamper regional development.
Nigerian President Muhammadu Buhari has called for a review of eligibility criteria for debt cancellation for developing and least developed countries in Africa.
In May, Buhari called on EU countries and other global financiers to reconsider loan restructuring or outright cancellation for African countries hampered by the COVID-19 pandemic.
Debt servicing is not Africa's only problem
Some fear that some countries in Africa have borrowed beyond their income threshold.
In July, Nigeria said it lacked revenue to maintain debt service, leading to a huge budget deficit.
Buhari calls on world leaders to consider debt cancellation and bids farewell
Analysts say Africa's problems remain mismanagement of resources, corruption and debt servicing.
The list of African countries most indebted to China, the amount and what the debts are used for
Remind that Legit.ng reported that Macau is the only country in the world without debt, according to the International Monetary Fund (IMF).
The world's largest economies rank among the 20 countries with the highest external debts.
These are the United States, Russia, the United Kingdom, France, Germany, Japan and China, according to a report by the Daily Trust.
Source: Legit.ng