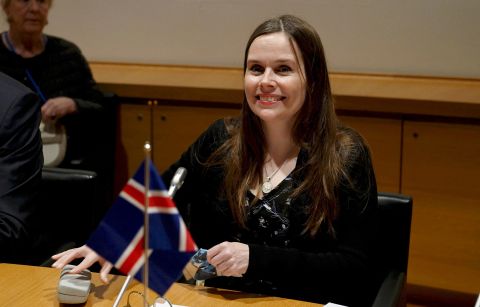 Icelandic PM reaffirms 'strong and unwavering' support for Ukraine among Nordic countries
Icelandic Prime Minister Katrín Jakobsdóttir said Nordic support for Kyiv "remains strong and unwavering", as the grueling war in Ukraine passed the eighth month.
Russia's invasion had "devastating consequences for the Ukrainian people and serious and far-reaching effects on all of us: on our security, on our energy economy and on food security in the world", Jakobsdóttir said during a a meeting of the Nordic Council in the Finnish capital of Helsinki on Tuesday.
The council represents Denmark, Finland, Iceland, Norway, Sweden, the Faroe Islands, Greenland and the autonomous region of Åland.
"We are united in our response to Russia as it wages its brutal war against Ukraine," said Finnish Prime Minister Sanna Marin, who hosted the conference.
Marin said the Nordic countries "are committed partners in defending the multilateral system and Ukraine's sovereignty against Russian aggression."
When asked what concrete steps countries are taking to support Ukraine, Marin stressed that "we don't just talk – we act, and we act united, we act together."
Jonas Gahr Støre, Norway's prime minister, said the Nordic countries continued to provide "financial support for state management, humanitarian support, medical support" and "welcome refugees".
He added that the coalition supports "Ukraine's right to self-defense, which means that we provide military equipment to Ukraine and we are committed to continuing to do so".
The Nordic leaders remained staunch allies of Kyiv and strongly criticized the Kremlin's invasion of Ukraine.