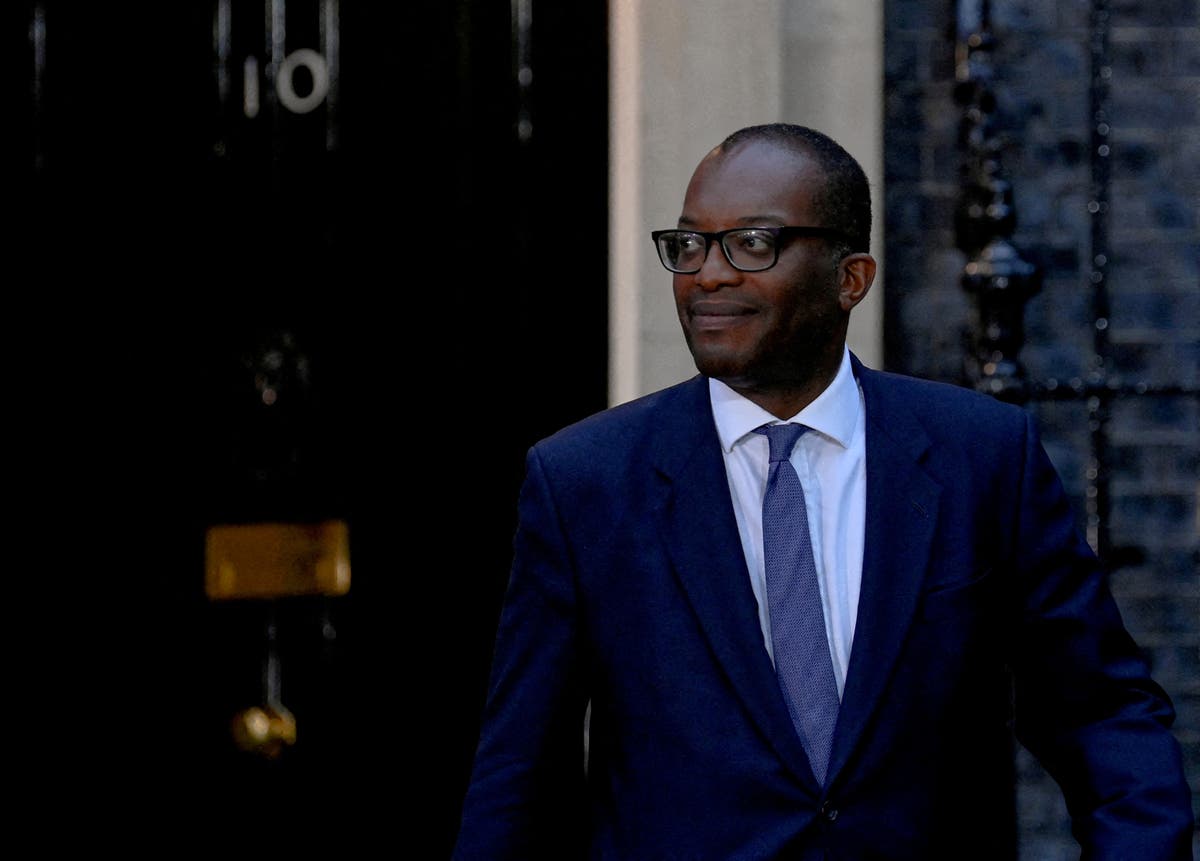 Devolved nations demand meeting with Kwasi Kwarteng amid austerity fears
Leaders of devolved governments have demanded an urgent meeting with Chancellor Kwasi Kwarteng over his "disastrous" mini-budget and fears of a new era of austerity.
Finance ministers from Scotland, Wales and Northern Ireland have warned that the Liz Truss government's 'huge bet' on loan-fueled tax cuts will mean a decade of spending cuts.
In a joint letter, they expressed concern over reports that all ministries would be asked to make cuts – pointing out that decentralized budget settlements have already been diminished by inflation.
Senior deputy ministers said the 'biggest package of unfunded tax cuts for the rich in over 50 years' had led to 'a huge gamble on public finances and the health of our economy'.
This is a key ally in Ms Truss' cabinet, Simon Clarke, who has suggested the government is exploring ways to reduce the size of the "extremely large" state.
The upgrade secretary pointed to welfare cuts along the way, revealing the government wanted to ensure the size of the state was in line with a low-tax economy.
Mr Clarke said Britons and others in Western Europe lived in a "fool's paradise" in which they enjoyed a "very extensive welfare state" despite sluggish economic productivity.
Welsh Secretary Robert Buckland also pointed to a spending cut, as the government seeks to reassure markets that it can balance the books after a turbulent week.
"We intend to be extremely rigorous on cutting public spending," Mr Buckland told Sky News on Saturday – saying there would be spending announcements in the coming weeks.
The government is on track to cut public spending by nearly £50bn a year after Mr Kwarteng's 'unapplied mistake' mini-budget, according to the Resolution Foundation think tank.
The think tank warned that if Ms Truss refuses to reverse her borrowing spree on tax cuts, the level of spending cuts will have to be "broadly the same or greater" than that of the Chancellor of at the time, George Osborne, established in 2010.
Mr Swinney said earlier this week he had 'never seen financial strain and pressure like I see it right now'. The SNP minister told the Scottish parliament that budget pressures could be worse than "years of austerity under George Osborne".
Former Labor Chancellor Alistair Darling told Times Radio on Saturday that an OBR assessment would have made "it's blindingly obvious that they are going to have to start cutting the amount we spend on public services".
Mr Darling added: 'It's chaos, and the chaos is the result of what the government has done…It's totally different from what happened in the financial crisis, where just about everyone the countries of the world discovered that their banking system was on the brink. collapse."
Ms Truss refused to commit to the annual increase in benefits in line with inflation in April – something Rishi Sunak promised to do when he was chancellor. Some Tory MPs have predicted the Prime Minister will struggle to push through real terms cuts to benefits through the Commons.
As the Tories tumble in opinion polls – one showed Labor opening an astonishing 33-point lead – some Tory MPs have pushed for a change of course, fearing the party's electoral prospects are not irreparably damaged.
There have also been calls for the publication of the next set of economic forecasts by the OBR – due to be published alongside Mr Kwarteng's medium-term plan on November 23 – to be brought forward to help restore confidence.
Some worried Tory rebels also want to reverse Ms Truss' scrapping of the 45p tax rate. Some backbench MPs are expected to start talks with Labor on what steps to take to throw him out in the Commons. "That's not all [the] usual suspects, "said a figure involved The temperature.