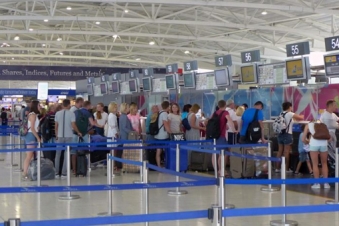 Cyprus puts Armenia on the list of "green" countries
March 28, 2022 – 17:02 AM
PanARMENIAN.Net – Armenia has moved from the red category to the green category, according to the latest updates of the country classifications of the Cypriot Ministry of Health, which will come into force on Thursday March 31, Cyprus Mail reports.
The ministry said its new plan for the proper functioning of airports started on February 21 which includes a reassessment of the epidemiological picture of the countries.
Countries are now categorized as green, red or grey, with different requirements for unvaccinated passengers or those without valid proof of Covid vaccination or recovery certificate.
The ministry reminded that such passengers may be able to travel to Cyprus provided they meet any testing or self-isolation requirements set for their country.
Vaccinated passengers or those who have recently recovered from Covid-19 can enter Cyprus without testing or self-isolation, provided they meet the country's requirements.
Currently, the green category includes the United Arab Emirates, Qatar, Rwanda, Saudi Arabia, and Armenia, which just graduated from the red category.
The red category includes all EU member states plus Andorra, Monaco, Vatican City, San Marino, Switzerland, Iceland, Lichtenstein and Norway.
Also in the red category are Egypt, Argentina, Australia, Georgia, United States of America, United Kingdom, Japan, Indonesia, Jordan, Israel, Canada, China (including Hong Kong and Macao), Colombia, Kuwait, Belarus, Lebanon and Bahrain. , New Zealand, South Korea, Oman, Ukraine, Uruguay, Peru, Russia, Serbia and Chile
All countries not included in the above list belong to the gray category, which means that passengers will need special permission to enter Cyprus.
The Ministry of Health stressed that all passengers, regardless of their country category, including those who have valid proof of vaccination, must complete the Cyprus Passport up to 48 hours before their flight, adding that they may be subject to random testing upon arrival.