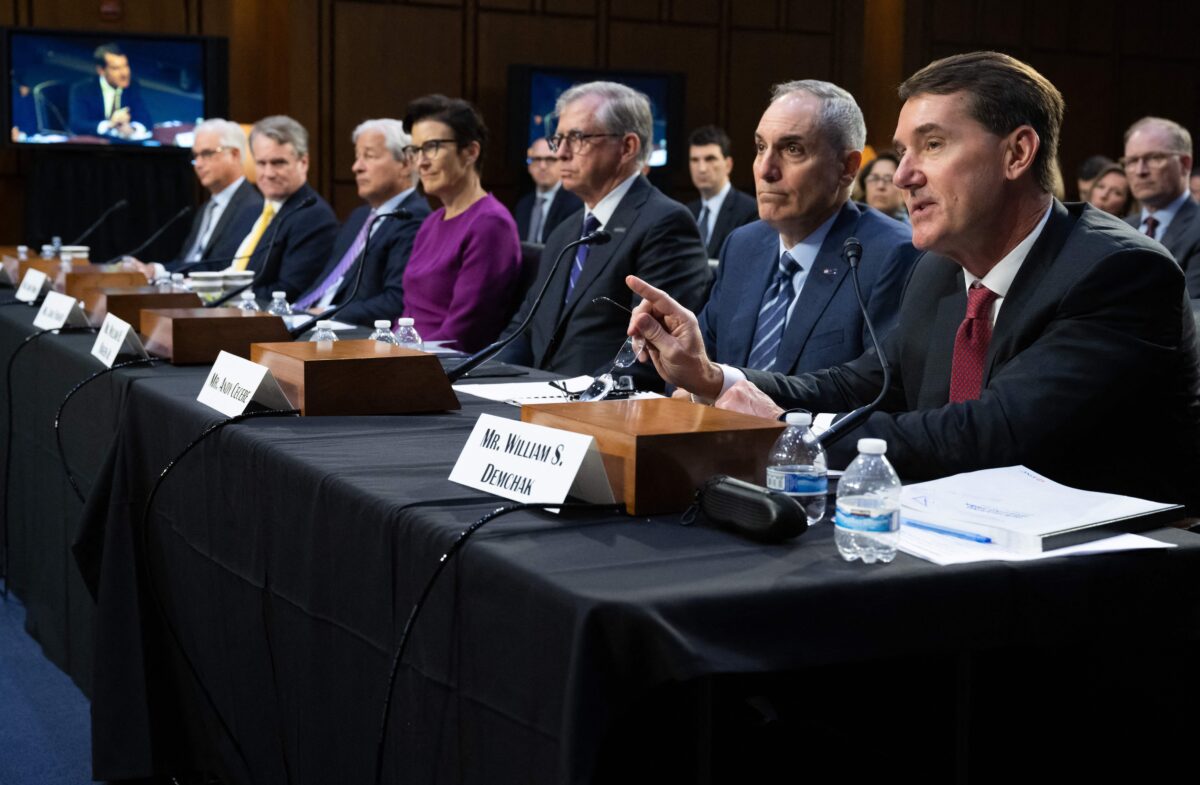 Bank chiefs grilled on restricting gun sales via gun-specific merchant codes
The seven bank chiefs testifying before Congress on Thursday pledged to abide by the Second Amendment by promising not to restrict gun sales after new gun-specific transaction codes were passed that sparked concern about whether tracking data could be used by payment processors to curb arms and ammunition sales.
The CEOs made the pledge while responding to Sen. Kevin Cramer (RN.D.), who pressed the leaders of America's largest retail banks to pledge to protect and process all transactions for lawful goods and services , including firearms, in light of what he described as political pressure to legislate social policy through corporate boards rather than through democratic processes.
Cramer said adoption of the new gun-specific Merchant Category Codes (MCCs) for gun and ammunition stores was forced on the International Organization for Standardization (ISO) by liberal activists .
Major U.S. credit card companies have announced they will implement gun-specific category codes, a move criticized by gun rights groups and two dozen Republican attorneys general as invasive, unfair and ineffective in enhancing public safety.
Protect all legal transactions
In light of the controversy surrounding new gun-specific codes, which US banks have pledged to use, Cramer asked the chiefs to take a stand on protecting Americans' Second Amendment rights.
"I want to ask each of you – as carriers, as acquirers, as enablers who provide the capital – can you commit to this committee and to the pay-per-view audience listening and watching, that your bank will process all transactions for the purchase of legal goods and services, and I might add constitutionally protected goods? asked the Republican senator.
The banks' seven CEOs responded in turn, each pledging to handle all transactions for legal goods and services, including firearms and ammunition.
Cramer urged Citigroup CEO Jane Fraser to get "additional assurances" in that regard, given the bank's history of restricting loans to gunmakers.
"Citibank in particular gave me pause. When your bank voluntarily pledged to restrict lending to firearms retail customers unless they meet your specific criteria, which in many cases exceeds the law," Cramer said.
"I want further assurances that law-abiding firearms buyers across the country will not be discriminated against by using this merchant category code as a means to an end," the senator added.
Fraser responded by expressing Citibank's commitment to honoring Second Amendment rights.
"We respect the Second Amendment. As I said, we do not intend to use the code to restrict or limit firearms purchases by our credit card customers. We don't do that today. We believe in best practices for gun retail and that's been the policy we've had for some time now," she said.
Push back gun-specific codes
In another move, Cramer led fellow Republicans on the Senate Banking Committee to pen a letter to the Bank Policy Institute (BPI), urging the organization to resist political pressure to insert financial institutions into contentious social issues.
"The creation of the new [merchant category code] was widely celebrated by liberal Democrats and gun control advocates. They made it clear that this was just the start of their campaign to block legal gun purchases," the Republicans wrote in the letter (pdf).
Cramer and the other Republicans on the committee called on members of BPI, which includes the megabanks whose CEOs testified Thursday before the Senate Banking Committee, to demonstrate their commitment to handling all transactions, including firearms and ammunition. .
More generally, bank bosses were urged by Republicans in the Senate hearing not to take liberal positions on social and cultural issues.
Sen. Pat Toomey (R-Penn.), the top Republican on the Senate Banking Committee, called on the banks to stop "adopting a liberal diet." [environmental, social, and governance] program that is hurting America.
The heads of Wells Fargo, Bank of America, JPMorgan Chase, Citigroup, Truist Financial Corporation, US Bancorp and PNC Financial Services Group testified.